Er zijn weer vele nieuwe producten binnen gekomen. Reden genoeg om er een nieuwsbrief over te schrijven.
Daily Dram - Poisonous Frog Series
In het verleden heeft Bresser en Timmer vaker whisky's uitgebracht onder het label van Daily Dram. Dit is al weer enige tijd geleden. Dit hebben ze nu weer opgepakt. En hoe. Met een hele mooie serie. Mooi in de uitmonstering van de flessen, mooi in de gekozen whisky's. Er zijn 6 whisky's in de Poisonous Frog Series uitgekozen;
Corftengea 12 years - Peated Loch Lomond - klik hier voor meer info
Caol Ila 12 years - prettig rokerig, fijn zoetje - klik hier voor meer info

Ben Nevis 21 yrs - Een wel hele mooie Ben Nevis - klik hier voor meer info
Glenrothes 20 yrs - Dik in de sherry - klik hier voor meer info
Distilled in Ireland 24 yrs - Ierse topkwaliteit - klik hier voor meer info
Distilled on Orkney 14 yrs - Tsja, welke distillery zou dit toch zijn.... - klik hier voor meer info
Voorraad is erg beperkt.
Saint & Peat - Bunnahabhain Staoisha 2013

Ook zo genoten van de Ultimate Bunnahabhain Staoisha 2013? Of misschien toen juist misgegrepen? Je krijgt nu een herkansing. Bunnahabhain Staoisha is een heavily peated Bunnahabhain. Staoisha onderscheidt zich hiermee van de Moine, die wel rokering is, maar minder dan de Staoisha. Het is een single cask, dus op = op. We verwachten deze met enkele dagen in huis te hebben. Bestellen is al mogelijk.
Interesse, hier vind je er meer over.
Remarkable Regional Malts Twist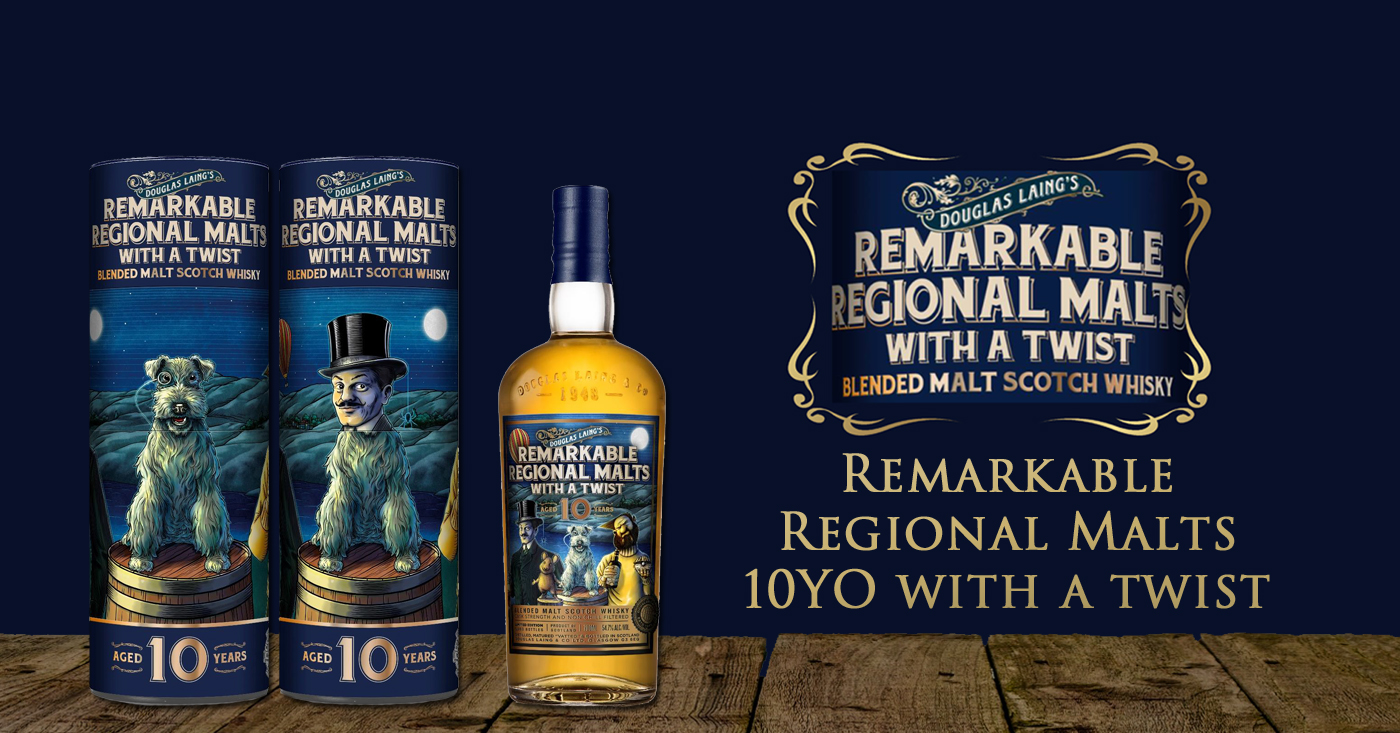 Ter ere van het 70-jarig bestaan van Douglas Laing & Co, laten zij u graag kennis maken met Remarkable Regional Malts 10YO – With a Twist! Deze opmerkelijke en innovatieve limited edition kenmerkt zich door een verplaatsbaar paneel die u in staat stelt de tube te customizen. Zo kunt u bijvoorbeeld het hoofd van 'The Epicurean' op het lichaam van 'Scallywag' plaatsen of het behaarde gezicht van 'Big Peat' op 'Timorous Beastie' en meer…!
Het betreft een blended malt botteling van single malts uit alle distillerende regio's uit Schotland, namelijk;
– The Lowlands
– The Highlands
– Speyside
– The Islands
– Islay
– Campbeltown
Voor de proefnotities of de mogelijkheid om te bestellen, klik dan hier
Jubileum whiskyproeverij
Vrijdag 30 november zijn we echt 5 jaar geopend. Wij vieren dat onder andere met een whiskyproeverij op woensdag 28 november. Samen met Werner Bos van de firma Van Wees maken we een line up om de vingers bij af te likken. We hebben al wat whisky's apart gezet, toppers van dit moment die al snel zo rond de 90 punten op whiskybase scoren. Dat zijn dan ook geen whisky's van €30-40, meer whisky's die een jubileum waardig zijn. We zorgen voor lekkere hapjes er bij. De inschrijving gaat hard, we hebben nog maar 13 plaatsen over.
Wil jij er bij zijn? Reserveer dan je plek via de webshop. Klik dan hier.